Pesudovs in Queensland
Wally's Family
Queensland is the north-eastern state of Australia and here Dimi's brother has settled and with his wife, Cathie, brought up two children, Katrina and Nicholas. All the family is into paint and now wine!
| | | |
| --- | --- | --- |
| | | |
| Cathie Pesudovs | Katrina Pesudovs | Nicholas Pesudovs |
The Painter
Wally Pesudovs first established his painting business in Nambour and then moved his headquarters to Maroochydore. He is well known on the Sunshine Coast and still has his painting contractors out on jobs of all sizes, domestic, commercial and industrial. His business administrator and most valuable person is Cathie, who would rather spend her time on the golf course.

Katrina has come up through apprenticeship ranks in her father's business, and now directs painting contractors herself as well as being the mother of young Emily.
His son, Nicholas, has changed careers and is learning about viticulture and growing grapes in Queensland's Kingaroy area.

Clovely Estate Cellar Door Bed and Breakfast is now Cathie's and Wally's latest venture. Situated in Moffatdale, they provide a vineyard retreat for visitors to the Clovely Estate where Nick is also assistant winemaker and Wally can be found behind the cellar door counter. Visit www.clovelycottage.com.au to see their enterprise.
---
The Artist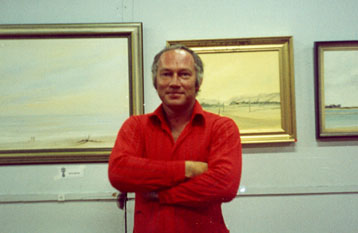 Wally also paints on canvas. When the mood takes him, he is an artist and has dabbled in a variety of styles. His main outlet has been landscapes, like the one he did for Dimi, seen below in miniature, but click on it to see the full size. The above picture shows Wally at an exhibition in which he participated in 1975 in Brisbane for the Latvian Festival.

&nbsp as JPG (58 Kb)