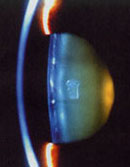 Pseudoduplication of the optic nerve head
Background: Pseudo-doubling of the optic nerve head is a spectacular clinical entity, in which a lesion resembling an optic disk appears adjacent to the true optic disk.

Case Report: A case of unilateral pseudo-doubling of the optic disk with bilateral optic nerve pits is presented.

Conclusions: The lesion is congenital, and represents a chorioretinal coloboma with optic disk involvement. Pseudo-doubling can be differentiated from true doubling of the optic nerve by the imaging techniques of ultrasonography, computerized tomography, and magnetic resonance imaging.
OPTOMETRY 2000;71:586-90

Konrad Pesudovs, B.Sc.Optom., F.A.A.O.(a) and
Harrison S. Weisinger, M.Sc.Optom., Ph.D.(b)

(a) Department of Ophthalmology, Flinders Medical Centre and Flinders University of South Australia, Bedford Park, South Australia
and
(b) Department of Food Science, Royal Melbourne Institute of Technology University, Melbourne, Victoria, Australia


Accepted for publication: September 2000

Also published July 13, 2001 Optom Today

Apparent duplication of the left optic disc.The true optic disc is superior to the lesions resembling a second disc and contains an optic nerve pit abutting the temporal margin of the disc.The majority of vessels exit the true optic disc,but three major vessels subserving the inferior arcades exit the inferior lesion.A cilioretinal artery exits from the optic nerve pit in the true optic disc.Some RPE pigment changes are visible at the macula on the right of the picture.
Key words: Congenital optic disk anomaly, coloboma, doubling of the optic nerve,
optic nerve pit, pseudo-doubling of the optic disk

Pseudodup. &nbsp as PDF (1698 Kb) &nbsp

Pseudodup. in OT &nbsp as PDF (142 Kb)


Index of Papers