Furthermore, given the known pathophysiology of PED, it appears that flicker perimetry can enable detection of a defect of photoreceptor function. Flicker perimetry may prove to be a useful tool for assessing retinal disease.
Clin Exp Optom 1994; 77: 58-63
Konrad,Pesudovs BSc Optom*,
Algis J Vingrys PhD**
* Department of Ophthalmology, Flinders Medical Centre
** Department of Optometry, University of Melbourne
Accepted for publication: 8 December 1993
Key words: age-related maculopathy, flicker, perimetry, pigment epithelial detachment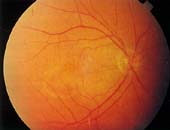 Figure 4. Fundus photograph of the right eye showing pigment epithelial detachment.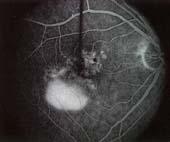 Figure 5. Fluorescein angiogram of the same eye (figure 4) showing a serous elevation with a small fleck of blood at the macula. This was interpreted by the retina specialist as an epithelial detachment with occult subretinal neovascular membrane formation within the foveal avascular zone.